NFTs are acting these days as a boost to support the creator economy, and the market of NFTs are skyrocketing.  Rightly stated in one of the in EU Blockchain Observatory and Forum publication, 'NFTs are highly innovative technologies, with a clear market  value  proposition, which might nurture a new techno-cultural movement' [1]. For example, Christie's sold a mosaic of Beeple's pieces for more than US$69 million in 2021 – third most expensive work ever sold by a living artist. [2] Online marketplaces such as Rarible, Nifty Gateway and OpenSea allow to create NFTs and offer purchasers to buy and trade digital collectables in the form of NFTs. [3] OpenSea is outperforming other NFT marketplaces to date where range of NFTs can be minted, purchased, and sold. NFT can be created with much ease in OpenSea – I recall an incidence when my batchmate from the Blockchain certification course I was taking just took a picture of his daughter drawing and showed us how he created NFTs out of it in just few minutes in the OpenSea.
The picture below from Cloudwards shows certain NFT statistics:
Also, Collectible NFTs are becoming most popular per the trends.
According to Financial times[4], almost $41 billion was spent on NFTs. Mason Nystrom stated that major reason for the 'NFT market growth was the demand buyers had to purchase art that aligned with their digital identities'.[5] According market-cap forecast by the Jefferies[6], the NFT market is forecasted to grow to $35 billion in 2022 and well over $80 billion in 2025.[7]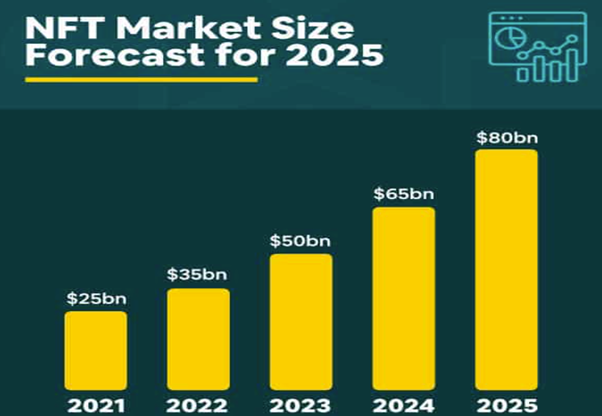 Source: http://www.tokenizedhq.com
Sidelining the copyright issues and other issues that may arise from NFT, if one were to think from a positive outlook, NFTs bring together different content creators from interdisciplinary fields under one ecosystem, thus opening new opportunities for inclusive growth for all contributors. NFT creators therefore get a chance to efficient price discovery mechanics in a liquid and easily accessible ecosystem, thus providing them more motivation and rewards for their work[8].
Also, this offers new Fintech opportunities by the option of easy management of wallets. Further, smart contracts embedded into an NFT can automatically execute actions such as paying a royalty to the NFT creator every time when NFT is resold. A physical contract can be linked to the smart contract, which governs an NFT, and the physical contract could specify various terms and conditions of the legal world, including copyright. There could be other standard terms and conditions that can apply to the sale of NFTs.[9]. For example, Mike Shinoda (co-founder of Linkin Park) sells NFTs under the 'NFT Terms' mentioned on the website[10]. Thus, there is an ample opportunity for commercialization of offerings surrounding emerging technologies, including for NFT-based assets[11].
The biggest advantage from a commercialization perspective is that these can be created and minted by the use of smart contracts and deployed through a blockchain-based system. This makes the NFTs created by use of smart contracts self-executing based on the instructions used at the time of coding[12]. Thus, the creator of NFT can set its own terms and conditions for commercialization. For example, as stated earlier, smart contracts underlying NFTs may set terms that entitle the owner to a percentage of royalties for each subsequent sale of the NFT.
Publicity rights form another opportunity for commercialization in the metaverse, including for NFTs. This can take new form with the increasing demand of NFT and its increasing sale[13]. Content licensing on Metaverse is another area that can be explored by NFT creators. For example, companies are exploring mechanisms to transform art in the virtual world. With the growing popularity of the Metaverse, we will see more events and forms of art in the metaverse, like films, plays, musicals events[14].
Based on the above discussion, there is no doubt that the value artist can generate for their artwork through the NFTs is much more than in the physical world. Also, the platform for NFT trading provides very easy mechanics to create and manage NFTs for the creator, including mechanics for deployment of the NFTs and management of the wallet.
Separately, there have also been talks of linking Decentralised Finance (DeFi) (a financial system based on blockchain) with NFTs. In such situations, the owner of NFTs can offer NFTs as collateral for financial support (for loans etc.). Some have suggested that NFT could also represent products such as a bond, options and other derivative instruments.[15] In the coming times, with the rising popularity of Metaverse, DeFi, we will see more of the used cases of NFTs too.
[1] EU Blockchain Observatory and Forum, Demystifying Non-Fungible Tokens; see https://www.eublockchainforum.eu/sites/default/files/reports/DemystifyingNFTs_November%202021_2.pdf
[2] Kyle Chayka, How Beeple crashed the Art world, The New Yorker; see https://www.newyorker.com/tech/annals-of-technology/how-beeple-crashed-the-art-world
[3] IP Commercialisation in the Virtual World: Part 2 – the Metaverse; Gilbert Tobin (March 03 2022); see https://www.gtlaw.com.au/knowledge/ip-commercialisation-virtual-world-metaverse
[4] Hannah Murphy and Joshua Oliver, How NFTs became a $40bn market in 2021, Financial times (December 31, 2021), see https://www.ft.com/content/e95f5ac2-0476-41f4-abd4-8a99faa7737d
[5] Rebekah Carter, The Ultimate List of NFT Statistics (2022), findstak (Feb. 27, 2022); see https://findstack.com/nft-statistics/
[6] Will Canny, Jefferies Sees the NFT Market Reachung More Than $80B in Value by 2025, Coindead (Jan. 22, 2022); see https://www.coindesk.com/business/2022/01/20/jefferies-sees-the-nft-market-reaching-more-than-80-billion-in-value-by-2025/
[7] Christian Heidorn, Shocking Numbers: The NFT Market Size in 2022, Tokenized ; see https://tokenizedhq.com/nft-market-size/
[8] EU Blockchain Observatory and Forum, Demystifying Non-Fungible Tokens (ibid 1)
[9] Anita Sharma, Do Copyright and IP Laws Apply to Blockchain Content?; see https://amplify.nabshow.com/articles/do-copyright-and-ip-laws-apply-to-blockchain/
[10] IP Commercialisation in the Virtual World: Part 2 – the Metaverse; Gilbert Tobin (ibid 2)
[11] Farah Mukaddam, NFTs and Intellectual Property Rights, Norton Rose Fulbright (October 2021); see https://www.nortonrosefulbright.com/de-de/wissen/publications/1a1abb9f/nfts-and-intellectual-property-rights)
[12] IP Commercialisation in the Virtual World: Part 2 – the Metaverse (ibid 2)
[13] IP Commercialisation in the Virtual World: Part 2 – the Metaverse (ibid 2)
[14] Farah Mukaddam, NFTs and Intellectual Property Rights, Norton Rose Fulbright (ibid 9)
[15] How Fintech Companies Can Make a Fortune on NFTs, Verified payments; see https://verifiedpayments.com/blog/how-fintech-companies-can-make-a-fortune-on-nfts/